COMPUTER DJ/VJ/KJ INDUSTRY SURVEY FORM
Thank You for completing this CPS Market-Research survey to help us improve our industry focus.
Please take a couple of moments to tell us about you, your services and industry trends. We
appreciate your participation and want to make sure that we meet all your expectations.

All information provided is considered personal and private and will NOt be released to third parties.
The collected personal data will remain secured with security limited access.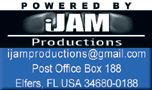 Powered by C.P.S. Educational Department