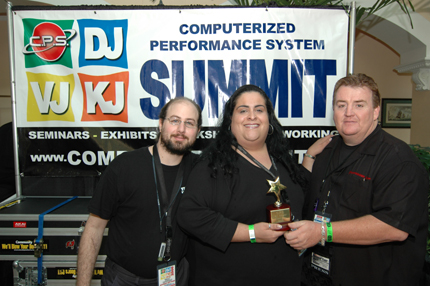 2006

CPS KJ Singing Champion



Awarded to:

KJ Diane Calo




Presented by: Educational Director & Gai Marcos of TriceraSoft

ir
Notice

We do not necessarily endorse or promote the information contained in press releases or articles submitted at www.computerdjsummit.com or www.cpsdj.com.

.


TAMPA, FLORIDA USA -- October 10, 2006:
Congratulations Diane Calo the 2006 C.P.S. KJ Singing Champion. Diane is owner and operator of a popular Karaoke service in the Orlando, Florida called Rent-a-Rican (http://www.djdi.com). She sang an excellent rendition of one of Cher's popular tunes, and the panel of industry judges and a room full of DJs, KJs, and VJs from across the nation scored her performance as the best during the 2006 TriceraSoft-sponsored event.

"What an honor to be awarded this title from my peers," Diane said upon hearing that she was the winner. As winner of the 2006 title, she joins Lori O'Brien, 2005 KJ Singing champion, as a member of the CPS-KJ executive judging panel for the 2007 CPS DJ Summit. Individuals can only win once, retaining the championship title un-challenged.

Now let's learn more about this new industry champion. What could be said about Di that has not already been said? Not a lot, since she tends to use her shows as group therapy sessions…you probably know too much already! Hard to believe, she still considers herself a little shy. Ha!

Diane (as her mami named her) is originally from NYC (the greatest city on the globe) but grew up in Puerto Rico. She attended both high school and college there…that's right she is an educated "Rican!" She is the youngest of her family and was a self-declared spoiled brat! That is partly to blame why she is the diva she is today! Di's mom and dad both hail from Puerto Rico and have instilled great pride and love for their homeland in her. Di's greatest regret is that she wasn't actually born on the island—she had plans to become governor at one time! (Seriously!) She has been in Orlando since 1989 and now has found it a great place to live. Hee…

She can remember back to her first DJ gig being as early as 8th grade on the school's boxed record players (remember those?); no mixer, but she still had it down, moving almost seamlessly from one record (yes, vinyl records) to another! She emceed most of the events she could get "volunteered" for and then some during her time in HS and college. She has performed in plays and TV and film and is touted as one mean baton twirler!!! (Just duck!)

Karaoke was a total fluke for Di. She was like many actors out of work and saw an audition notice and said, "What the?" She wound up getting a job hosting karaoke around Florida, and the rest is history or is herstory… Her Cher impersonations have become legendary. While shopping or at the movies many have referred to her as, "Hey you, the karaoke lady, who sings just like Cher! We love you!" Please note…Di doesn't particularly like that, so just say Hi, OK?

Di likes to add more to her shows than just announcing the next singers or mixing in the next song. She tries to bring a little something for everyone, and that is what has sustained her popularity over the years. A whole lotta laughs and overall fun are staples at her shows. Many come to enjoy her company and her voice. She revels in good singers but her greatest joy is when first-time or inexperienced performers give their all. It is just karaoke, after all.

Di has been a working DJ/KJ in Central Florida for well over 10 years now. She spent some of her best and longest times at Devaney's on University (her first) and Bombay Bicycle Club in Altamonte for 6 years!!! And now Big Daddy's for over 2 years, and over a year at both Cigarz & Clicks. Yikes! She is extremely happy to be performing where she is today. All of her shows fulfill her in different ways and she won't work somewhere she doesn't feel comfortable. Diva? Yes!

Her website has been a long time coming, 10 years after all. But because Di is such a renaissance woman she couldn't decide what to call it. She is a DJ, singer, actor, makeup artist, and business consultant…whew! Well she figured she is a "Rican" who is seemingly always up for rent… and Rent-A-Rican was born!!! For more on Rent-A-Rican and what it is all about go to the FAQ page!

As for her personal life, she considers herself very lucky to have a wonderful group of friends and her wacky family around. As for the men in her life…all gay! Well most. She is a great "hag" to her boys and wouldn't have it any other way. She is gratefully single and lives in a great house she never wants to leave. She looks great in red, and loves expensive perfume and handbags. (Hint** intended.) Shamefully, she admits being addicted to dating shows (Elimidate, 5th Wheel, Shipmates, etc.) because she can't believe how folks allow themselves to get totally wasted, act like fools, and then let it be broadcast on national TV. Di says she would like to keep those activities in the bars where that activity belongs… so SHE can see it!!!

On behalf of the CPS team… Congratulations, Diane!
About C.P.S. Industry Awards (CPSIA):
C.P.S. Educational Department, organizers of the C.P.S. Awards program, proudly recognized individuals and organizations for their extraordinary contributions to the computer DJ/VJ/KJ industry during the 2006 CPS DJ Summit while also reflecting upon and celebrating the 100th birthday of the DJ industry.

The C.P.S. Industry Awards will include:
• Industry Pioneer Award (in several categories)
• Manufacturers Representative of the Year Award
• C.P.S. Karaoke DJ Singing Champion
• C.P.S. DJ/VJ/KJ Mixing Champion
• Music Technology Award
• Industry Visionary Award
• Creative Achievement Award
• Founders Award

"We created the C.P.S. Industry Awards because at the time, there was no other formal awards program to recognize pioneers and exceptional achievements within the Computer DJing Industry," said Educational Director, Director and Founder of the C.P.S. Program. "As I looked around the room during many industry events, I saw the faces of accomplished programmers, developers, visionaries, and pioneers of the Computer DJ/VJ/KJ industry who have and continue to tirelessly work to advance technology contributions to the C.P.S. Industry. While only a handful received awards at the 2006 Computer DJ Summit, I truly believe that the accomplishments within our community make everyone who attended and supported our industry true winners."
Outside Our Industry
.
Wikipedia reference to CPS
Wikipedia reference to Disc Jockey
Wikipedia reference to Mobile Disc Jockeys