Reg·is·tra·tion,, (n) 1:the act of enrolling [syn: enrollment, enrolment] 2: the body of people (such as students) who register or enroll at the same time [syn: enrollment] 3: a document certifying an act of registering.
2008 Registration Is Open


SPECIAL DISCOUNTS & PROGRAMS AVAILABLE
CONGRATULATIONS!
Your arrival here means you've taken a significant and important step in expanding your career. An affordable industry event with seminars, workshops, panels, and briefings from top industry pioneers in the fields of Computer DJing.
CPS SUMMIT 2007 NEWS
GEARING UP FOR ANOTHER GREAT EVENT!
The 2008 CPS DJ Summit in Atlanta, Georgia, will reflect the pulse of the Computer DJing industry. Registering eairly guarantees you discounts, a reserved seat in the HiTech amphitheatre and special VIP Full access pass.
LODGING & TRAVEL
DELUXE ROOM SUITES
Did you reserve your hotel room? We have reserved a limited number of suites at the host hotel Atlanta Airport Westin. For lodging, car rental, flight information and directions click here.
EAIRLY REGISTRATION DISCOUNTS
Click here to download the Attentee Registration Form - Postmark dates WILL be considered for ALL special promotions. Special promotions subject to all terms. all materials, all general participation, scheduled events, and benifits listed. If registering within the required time enter any discount codes. We will phone you to confirm your reserved HiTech amphitheatre seating arangement.
SEMINARS. PANELS & WORKSHOPS
INFORMATION OVERLOAD!
Click here to view sample 2007 schedule
Featuing seveal vendor seminar and workshop rooms the hilight will feature reserved seating in the state-of-the-art HiTech tiered classroom amphitheatre. As an attendee you will have your very own "reserved" workstation that includes electrical plug-ins for your laptop or other devices, data-port plug-in with task lamp and ergonomically designed seating. As a smaller industry event it gives us the ability to offer the best in comfort and technology.

VIP RESERVED SEATING
Have you every found yourself rushing to a seminar during a DJ convention to find it standing room only? We are the first DJ event to introduce VIP Asigned seating, stay up and network as late as you want, even sleep in, your reserved workstation will be waiting. Our office will phone you once we recieve your registration form. The chart below reflects the rows (A-F) with workstations numbered left to right.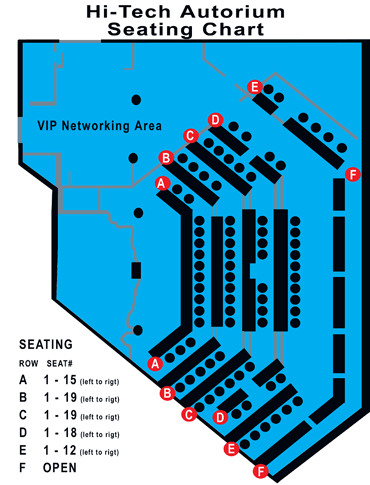 WHY ATTEND THE CPS DJ/KJ/VJ SUMMIT
HEAR ALL THE BUZZZZZ!
Who should attend the Summit? Anyone who uses, plans to use, or preparing to mix with audio files via a computer or digital hadware tool. The Summit is a DJ Convention for DJs that mix with computer audio files.
See what your peers are saying about past CPS Summits and what makes this event unique and different than others and why you can't afford to miss it. Click on any of the links below to read more.
REGISTER TODAY
Click here to download the Attentee Registration Form -
The Official CPS Industry Survey
Computer DJing Industry Survey
The purpose of the survey is to collect product-anonymous information about computer DJs, which we will aggregate and publicly share with the hardware manufacturing and software development community community. The survey features multi questions, and upon completion you will be entered in a drawing to win some great prizes and software. All responses will remain completely anonymous and no personal information will be shared, harvested or sold. The more completed surveys we get, the better our data will be, meaning our findings will be of greater interest to the hardware manufacturing and software development community. Be sure to take the survey! All of your information will remain anonymous, and once we receive enough responses, we'll announce when we'll publish the data. Click here to take survey.
Educational Review Material
DJ Summit Review DVDs
Did you miss last years Computer DJ Summit? After two years of coveing many 101 topics, future Summits will now focus on advanced learning. If you missed the wealth of information shared during the Summit you will find several review DVDs now available in the official CPS Store. These DVDs will catch you up for future events. DVDs ar available in two disc sets and mega sets. Click here for details.

CPS Certification Gives an Edge
In a white paper titled Certification: Networking With the Best, George R. Conrade, wrote, "Certification is an excellent way to gain a competitive edge and give proof of your abilities, knowledge, and level of skill. To be certified in any profession, whether it's as a Certified Public Accountant (CPA) or as a CPS Certified Disc Jockey (CPSDJ), means you have joined a network of individuals who meet consistent, knowledge-based standards of ability, position, experience-even ethics. When you pursue certification, you're testing yourself against these standards of proficiency." Click here for details.

Computer DJ/VJ/KJ Summit/Cruise
Special announcement... The Digital DJ Summit/Cruise will began in Tampa, Florida. This years event will be groundbreaking for the novice and experienced Disc Jockey. Anyone "already" or "planning" to mix mp3s or other music file format with hardware, software or combination of both. Block your schedule and don't forget to attend the Monday evening " Weddings Ground-0" seminar to discover the plans for the 2019 Summit.
NOTICE: The 2019 Summit is a B.Y.O.L where you can plug-into the live experience.