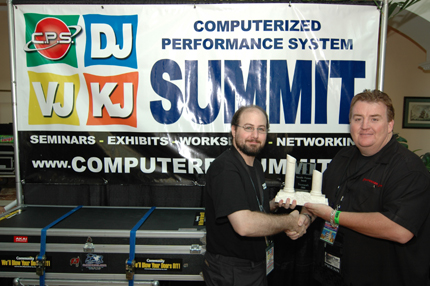 2006

C.P.S. Karaoke Pioneer Award



Awarded to:

Gai Marcos




Presented by: Educational Director @ 2006 DJ Summit Tampa, Florida

ir
Notice

We do not necessarily endorse or promote the information contained in press releases or articles submitted at www.computerdjsummit.com or www.cpsdj.com.

.


TAMPA, FLORIDA USA -- October 10, 2006:
If you're remotely familiar with Karaoke, over the years in one way or another you have utilized technology developed by this industry pioneer. With a Bachelor of Technology degree, Gai Marcos developed, and first introduced, the now-popular and industry standard format MP3+G in early 1998. He also developed the first PC Karaoke player to support the format called "WinCDG."

Gai began his career in PC Karaoke by starting a company called TyrannoSoft in 1998. Now as President/CEO of TriceraSoft, he has remained devoted to making multimedia easy to use. After developing MP3+G, he incorporated a wide range of solutions offering custom development platforms by combining various open and proprietary technologies. Technologies include (but are not limited to) Jukebox, Player Software, DSP, 3D Visuals and Effects, Management, Presentation, Schedulers, Blue-Screening (Chroma Key), Remote Request Tools, and Lighting Control.

Karaoke enthusiasts globally have benefited from Gai's dedication to the KJ and VJ community—quickly developing tools to meet the demands of our industry. Did you know he also developed the one and only CD+G Ripper tool (the first CD+G-to-MP3+G extraction tool)? In 1999 under his new company, TriceraSoft, he introduced the first Professional Video, Audio, and Karaoke Software Solution, "Mimic Audition."

Today we tip our hats, cue our respect, and give thanks to the dedication of an industry pioneer who continues to integrate multiple technologies and solutions that give Karaoke Jockeys everywhere a unique and creative edge: Gai Marcos of Brampton, Ontario, Canada.
About C.P.S. Industry Awards (CPSIA):
C.P.S. Educational Department, organizers of the C.P.S. Awards program, proudly recognized individuals and organizations for their extraordinary contributions to the computer DJ/VJ/KJ industry during the 2006 CPS DJ Summit while also reflecting upon and celebrating the 100th birthday of the DJ industry.

The C.P.S. Industry Awards will include:
• Industry Pioneer Award (in several categories)
• Manufacturers Representative of the Year Award
• C.P.S. Karaoke DJ Singing Champion
• C.P.S. DJ/VJ/KJ Mixing Champion
• Music Technology Award
• Industry Visionary Award
• Creative Achievement Award
• Founders Award

"We created the C.P.S. Industry Awards because at the time, there was no other formal awards program to recognize pioneers and exceptional achievements within the Computer DJing Industry," said Educational Director, Director and Founder of the C.P.S. Program. "As I looked around the room during many industry events, I saw the faces of accomplished programmers, developers, visionaries, and pioneers of the Computer DJ/VJ/KJ industry who have and continue to tirelessly work to advance technology contributions to the C.P.S. Industry. While only a handful received awards at the 2006 Computer DJ Summit, I truly believe that the accomplishments within our community make everyone who attended and supported our industry true winners."
Outside Our Industry
.
Wikipedia reference to CPS
Wikipedia reference to Disc Jockey
Wikipedia reference to Mobile Disc Jockeys