C.P.S.D.J. Com-pu-ter-ized Per-for-mance Sys-tem Disc Jock-ey, (n) An entertainer who 1: utilizes a personal computer based system that can be programmed to manipulate audio and/or video, symbols, perform complex and repetitive mixing procedures quickly, precisely and reliably; is able to quickly store and retrieve large amounts of data during remote or live performances. 2: entertains at events with pre-recorded or live music. Utilizes music programming skills and emceeing ability, combining a variety of hardware and software combinations.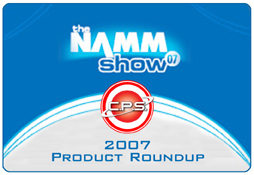 NAMM 2007
They came, They saw, They suffered sensory overload, auditory fatigue, and found themself suffering from mightily sore feet. In the music industry this is where you go to meet people, see the newest products, have a vision of the future, glare at the stars, and obtain industry insider views. In other words, this is the Music Industry show of all shows!
Educational Director has called this year's NAMM show "The Year Of The CPS DJ Controller" - Click here and check out many of the new CPS DJ products.
Thank You
We would like to acknowledge and offer a very big THANK YOU to all attendees, sponsors, and supporting vendors of the 2006 4th Annual Computer DJ/VJ/KJ Summit. You are visionaries and pioneers in the building of our foundation. Without your support we could never have accomplished the inspiration of 7 years ago. Congratulations Kazuhiro Onizuka, after a 22 hour flight from Kawasaki, Japan, Kazuhiro has the distinguished title of traveling the longest distance to attend the Summit.
2006 C.P.S. Industry Award Winners
This year the C.P.S. Awards presentation started off the 2006 Computer DJ/VJ/KJ Summit in sunny Tampa, Florida. Hosted by C.P.S. Educational Department, the C.P.S. community recognized several individuals in attendance for outstanding industry contributions, industry service, and talent with the prestigious C.P.S. Awards.

The Awards are an opportunity for colleagues to celebrate and publicly recognize the achievements and services of individuals for the betterment of our industry.

The presentation was made at the beautiful grounds of Sheraton Suites Tampa prior to the first scheduled seminar of the 2006 DJ Summit, attended by a large number of industry professionals who enthusiastically supported their colleagues in recognition of their success and accomplishments.
To read more information about the Awards and Awardees, click here.
The $13,500.00 DJ Industry Birthday Gift
Did you miss the welcome announcements during the 2006 4th Annual CPS DJ Summit? In celebration of the 100th birthday of the Disc Jockey, Gai Marcos, president of TriceraSoft, developer of the Swift Elite software program, had planned, in advance, to sponsor two attendees for the CPS Certification program.

Instead, he sponsored the CPS Certification program for ALL attendees of the meeting. With a value of $13,500.00 the scholarship will greatly benefit attending DJs. The value of this per-person investment towards the educational growth of the CPS Community was a tremendous surprise for all attendees.

Thank You Mr. Marcos.
Outside Our Industry.
Wikipedia reference to CPS
Wikipedia reference to Disc Jockey
Wikipedia reference to Mobile Disc Jockeys
The Official CPS Industry Survey
Computer DJing Industry Survey
The purpose of the survey is to collect product-anonymous information about computer DJs, which we will aggregate and publicly share with the hardware manufacturing and software development community community. The survey features multi questions, and upon completion you will be entered in a drawing to win some great prizes and software. All responses will remain completely anonymous and no personal information will be shared, harvested or sold. The more completed surveys we get, the better our data will be, meaning our findings will be of greater interest to the hardware manufacturing and software development community. Be sure to take the survey! All of your information will remain anonymous, and once we receive enough responses, we'll announce when we'll publish the data. Click here to take survey.
Educational Review Material
DJ Summit Review DVDs
Did you miss last years Computer DJ Summit? After two years of coveing many 101 topics, future Summits will now focus on advanced learning. If you missed the wealth of information shared during the Summit you will find several review DVDs now available in the official CPS Store. These DVDs will catch you up for future events. DVDs ar available in two disc sets and mega sets. Click here for details.

CPS Certification Gives an Edge
In a white paper titled Certification: Networking With the Best, George R. Conrade, wrote, "Certification is an excellent way to gain a competitive edge and give proof of your abilities, knowledge, and level of skill. To be certified in any profession, whether it's as a Certified Public Accountant (CPA) or as a CPS Certified Disc Jockey (CPSDJ), means you have joined a network of individuals who meet consistent, knowledge-based standards of ability, position, experience-even ethics. When you pursue certification, you're testing yourself against these standards of proficiency." Click here for details.

Computer DJ/VJ/KJ Summit/Cruise
Special announcement... The Digital DJ Summit/Cruise will began in Tampa, Florida. This years event will be groundbreaking for the novice and experienced Disc Jockey. Anyone "already" or "planning" to mix mp3s or other music file format with hardware, software or combination of both. Block your schedule and don't forget to attend the Monday evening " Weddings Ground-0" seminar to discover the plans for the 2019 Summit.
NOTICE: The 2019 Summit is a B.Y.O.L where you can plug-into the live experience.