BMG
This company began in Germany as part of the Bertelsman, A.G. corporation. By acquiring Aristan Records in 1979, the company took off in the United States and in 1986 the company bought RCA Victor from General Electric. Bertelsman owns television and radio stations around the world, film production and distribution, magazine publishing, book publishing, and newspapers- over 200 entertainment and publishing entities throughout the world.
----------

Labels Operate under BMG Entertainment: - Ariola - RCA - LaFace/Arista - Zoo Entertainment - Private - Windham Hill - Disques Vogue - Jive/Silverstone - Wired - Mushroom - Deconstruction - American Recordings - Absorbing Gun - Red Rooster - Goldrush - K&P - Chodwig - MSM - Expressive - Coconut - Nahsa - MCI - Sing Sing - Jupiter - Lawine
----------

Publisher: BMG Music Publishing
----------

Distributor & Manufacturer: BMG Music
----------

Record Club: BMG Music Service
----------

Revenues in 2004: $5 billion
----------

Assets: $416.9 million

---

Electronic Music Industry

Three labels merged in the 1930's to form EMI, Columbia Graphophone, Gramaphone Company, and Parlophone. The company is based in the United Kingdom.
----------

Labels: Capitol - EMI Records - Virgin Records Ltd. - Capitol - EMI Music
----------

Publisher: EMI Music Publishing
----------

Distributor & Manufacturer: EMD (EMI Music Distribution) - HMV Group
---

MCA

MCA began in New York in 1924 as a talent agency. Only after acquiring Universal Studios film facilities in 1959 did it move into publishing. The recording sector began by purchasing labels such as U.S. Decca, Coral, and Kapp in 1962. The Japanese Matshushita Electric Industrial Company purchased it in 1990, but Seagramn Company, Ltd. of Canada purchased 80% of Matsushita's ownership in 1995.
----------

Labels Operate under MCA: - MCA - Geffen - DGC - GRP
----------

Otherr: MCA also owns record and video distribution systems and music publishing interests.
---

Polygram N.V.

The history of this Dutch entertainment holding company is long and complex. The company is 75% owned by Phillips Electronics N.V. Their biggest mergers and acquisitions have been with Polydor, Mercury Records, MGM Records, Phonogram, Island Records Group, A&M Records, R&B powerhouse Motown in 1993, and finally a 50% interest in Def Jam Records in 1994.
----------

Labels: - Mercury - Polydor - London - Vertigo - Verve - Wing - A&M - Island - Motown - Decca - Deutche Grammophon - Phillips Classics
----------

Other: Also owns music publishing, manufacturing, and the PGD or Polygram Distribution systems.
---

Sony Music

Sony decided to create a software manufacturing and distribution system to complement its hardware manufacturing. With an agreement with CBS Records, Sony created the first manufacturer of compact discs in the United States.
----------

Labels: - Columbia - Epic - Epic Associated Labels
----------

Publisher: Sony Music Publishing - Columbia Records
----------

Distribution: Sony Distribution
----------

Record Club: Half of Columbia House record club (Warner owns the other half) CD and Tape Manufacturing Facilities in the U.S.
---

Warner Music Group

The largest entertainment company in the industry is Time Warner Entertainment Group, located in the United States, which owns the Warner Music Group. Warner Brothers Records began as an attempt to control music in the film industry during the 20's.
----------

Labels Operate under BMG Entertainment: - Ariola - RCA - LaFace/Arista - Zoo Entertainment - Private - Windham Hill - Disques Vogue - Jive/Silverstone - Wired - Mushroom - Deconstruction - American Recordings - Absorbing Gun - Red Rooster - Goldrush - K&P - Chodwig - MSM - Expressive - Coconut - Nahsa - MCI - Sing Sing - Jupiter - Lawine
----------

Publisher: BMG Music Publishing
----------

Distributor & Manufacturer: BMG Music
----------

Record Club: BMG Music Service
----------

Revenues in 2004: $5 billion
----------

Assets: $416.9 million
---
The Rise of the Big Six… or is it Five?

So, why didn't these companies think of this before instead of recently, in the 90's, trying to dominate the industry across all levels? One reason for this is that these entertainment conglomerates realized the power of music throughout every other medium. Music can be found in television, film, broadcasting, live performances, and recordings. By owning just one copyright of a hit song, these conglomerates could sit back and watch the income roll in as they gain royalties from the song. They could win big from this one song from every movie that featured it, every performer that decided to sing it, every radio that decided to play it, and especially every recording that was sold. The big players have realized in the past few years that by buying more labels or merging together, they can diversify their music portfolio and decrease their risk of failure from any one market. EMI and Time Warner have very recently (in 2000) combined forces, thereby becoming the leaders in the music industry. The following chart shows the leaders of the music industry distibutor in the U.S. for 1999: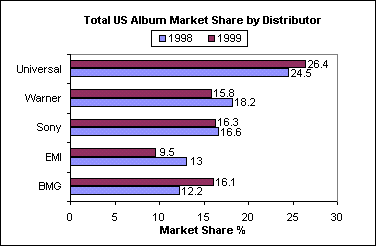 Copyrights



Production

Research and Development



Distribution



Marketing

-----

Industry Supply Chain -----

Company Supply Chain -----


-----

"Big Six" of the Industry -----

Competitiveness! -----

| 2006 CHART | 2005 CHART |
| 2004 CHART | 2003 CHART | 2002 CHART | 2001 CHART | 2000 CHART |
| 1999 CHART | 1998 CHART | 1997 CHART | 1996 CHART | 1995 CHART |
| 1994 CHART | 1993 CHART | 1992 CHART | 1991 CHART | 1990 CHART |
| 1989 CHART | 1988 CHART | 1987 CHART | 1986 CHART | 1985 CHART |
| 1984 CHART | 1983 CHART | 1982 CHART | 1981 CHART | 1980 CHART |
| 1979 CHART | 1978 CHART | 1977 CHART | 1976 CHART | 1975 CHART |
| 1974 CHART | 1973 CHART | 1972 CHART | 1971 CHART | 1970 CHART |
Classic Music Collection .pdf Lists & More
| 1930's | 1940's | 1950's | 1960's | 1970's | 1980's | 1990's |
| The Beginning of Recorded Music (1800's) | 1900's-1920's | 1930's-1950's |
| 1960's-1980's | 1990's | Piracy | Supply Chain |
| History of House Music |

Outside Our Industry.
Wikipedia reference to CPS
Wikipedia reference to Disc Jockey
Wikipedia reference to Mobile Disc Jockeys
The Official CPS Industry Survey
Computer DJing Industry Survey
The purpose of the survey is to collect product-anonymous information about computer DJs, which we will aggregate and publicly share with the hardware manufacturing and software development community community. The survey features multi questions, and upon completion you will be entered in a drawing to win some great prizes and software. All responses will remain completely anonymous and no personal information will be shared, harvested or sold. The more completed surveys we get, the better our data will be, meaning our findings will be of greater interest to the hardware manufacturing and software development community. Be sure to take the survey! All of your information will remain anonymous, and once we receive enough responses, we'll announce when we'll publish the data. Click here to take survey.
Educational Review Material
DJ Summit Review DVDs
Did you miss last years Computer DJ Summit? After two years of coveing many 101 topics, future Summits will now focus on advanced learning. If you missed the wealth of information shared during the Summit you will find several review DVDs now available in the official CPS Store. These DVDs will catch you up for future events. DVDs ar available in two disc sets and mega sets. Click here for details.

CPS Certification Gives an Edge
In a white paper titled Certification: Networking With the Best, George R. Conrade, wrote, "Certification is an excellent way to gain a competitive edge and give proof of your abilities, knowledge, and level of skill. To be certified in any profession, whether it's as a Certified Public Accountant (CPA) or as a CPS Certified Disc Jockey (CPSDJ), means you have joined a network of individuals who meet consistent, knowledge-based standards of ability, position, experience-even ethics. When you pursue certification, you're testing yourself against these standards of proficiency." Click here for details.

Computer DJ/VJ/KJ Summit/Cruise
Special announcement... The Digital DJ Summit/Cruise will began in Tampa, Florida. This years event will be groundbreaking for the novice and experienced Disc Jockey. Anyone "already" or "planning" to mix mp3s or other music file format with hardware, software or combination of both. Block your schedule and don't forget to attend the Monday evening " Weddings Ground-0" seminar to discover the plans for the 2019 Summit.
NOTICE: The 2019 Summit is a B.Y.O.L where you can plug-into the live experience.