------------------------------

Introduction
------------------------------

Horizonal vs. Vertical
------------------------------

The Rise of the Big Six/Five
------------------------------

Changing Tastes and Genres
------------------------------

Instant Gratification
------------------------------

The Influence of Technology
------------------------------

Value-Added Chain
------------------------------

EMI and Time Warner
------------------------------

Global Interaction Perspective
------------------------------

Imports & Exports
------------------------------

"Big Six Profile
------------------------------

Return to The Industry page

---
Instant Gratification

Even the preferences of consumers for the location of sales have widened, thus diversifying the possibilities of the distributing sector of the music industry supply chain.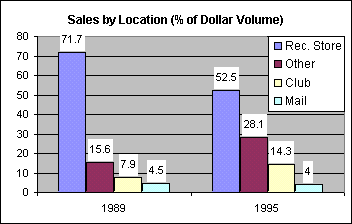 Consumers began to shop in different locations for the sake of convenience or to find more selective music needs that the larger retail stores could not offer. People began looking in smaller specialized stores for what they needed. They joined record clubs where distributors profited by narrowing the supply chain, thereby eliminating the retail stores and offering discounts to the public while still making killer profits.

With the advent of the internet, these record clubs moved on-line and offered a transnational channel of distribution, thereby opening the market beyond a set boundary. In a research study of 13,000 students conducted by Webnoize.com, 28.1% said they purchased music online while 55% still purchased from retail stores. 40.1% of students say they use the internet to learn about their music interest before actually purchasing.

These studies prove that the internet is slowly fulfilling the public need for instant gratification- having what they want right away. The Big Six are now trying to use this new medium for further profit and expansion.


---
------------------------------

Introduction
------------------------------

Horizonal vs. Vertical
------------------------------

The Rise of the Big Six/Five
------------------------------

Changing Tastes and Genres
------------------------------

Instant Gratification
------------------------------

The Influence of Technology
------------------------------

Value-Added Chain
------------------------------

EMI and Time Warner
------------------------------

Global Interaction Perspective
------------------------------

Imports & Exports
------------------------------

"Big Six Profile
------------------------------

Return to The Industry page
---
Copyrights



Production

Research and Development



Distribution



Marketing

-----

Industry Supply Chain -----

Company Supply Chain -----


-----

"Big Six" of the Industry -----

Competitiveness! -----

| 2006 CHART | 2005 CHART |
| 2004 CHART | 2003 CHART | 2002 CHART | 2001 CHART | 2000 CHART |
| 1999 CHART | 1998 CHART | 1997 CHART | 1996 CHART | 1995 CHART |
| 1994 CHART | 1993 CHART | 1992 CHART | 1991 CHART | 1990 CHART |
| 1989 CHART | 1988 CHART | 1987 CHART | 1986 CHART | 1985 CHART |
| 1984 CHART | 1983 CHART | 1982 CHART | 1981 CHART | 1980 CHART |
| 1979 CHART | 1978 CHART | 1977 CHART | 1976 CHART | 1975 CHART |
| 1974 CHART | 1973 CHART | 1972 CHART | 1971 CHART | 1970 CHART |
Classic Music Collection .pdf Lists & More
| 1930's | 1940's | 1950's | 1960's | 1970's | 1980's | 1990's |
| The Beginning of Recorded Music (1800's) | 1900's-1920's | 1930's-1950's |
| 1960's-1980's | 1990's | Piracy | Supply Chain |
| History of House Music |

Outside Our Industry.
Wikipedia reference to CPS
Wikipedia reference to Disc Jockey
Wikipedia reference to Mobile Disc Jockeys
The Official CPS Industry Survey
Computer DJing Industry Survey
The purpose of the survey is to collect product-anonymous information about computer DJs, which we will aggregate and publicly share with the hardware manufacturing and software development community community. The survey features multi questions, and upon completion you will be entered in a drawing to win some great prizes and software. All responses will remain completely anonymous and no personal information will be shared, harvested or sold. The more completed surveys we get, the better our data will be, meaning our findings will be of greater interest to the hardware manufacturing and software development community. Be sure to take the survey! All of your information will remain anonymous, and once we receive enough responses, we'll announce when we'll publish the data. Click here to take survey.
Educational Review Material
DJ Summit Review DVDs
Did you miss last years Computer DJ Summit? After two years of coveing many 101 topics, future Summits will now focus on advanced learning. If you missed the wealth of information shared during the Summit you will find several review DVDs now available in the official CPS Store. These DVDs will catch you up for future events. DVDs ar available in two disc sets and mega sets. Click here for details.

CPS Certification Gives an Edge
In a white paper titled Certification: Networking With the Best, George R. Conrade, wrote, "Certification is an excellent way to gain a competitive edge and give proof of your abilities, knowledge, and level of skill. To be certified in any profession, whether it's as a Certified Public Accountant (CPA) or as a CPS Certified Disc Jockey (CPSDJ), means you have joined a network of individuals who meet consistent, knowledge-based standards of ability, position, experience-even ethics. When you pursue certification, you're testing yourself against these standards of proficiency." Click here for details.

Computer DJ/VJ/KJ Summit/Cruise
Special announcement... The Digital DJ Summit/Cruise will began in Tampa, Florida. This years event will be groundbreaking for the novice and experienced Disc Jockey. Anyone "already" or "planning" to mix mp3s or other music file format with hardware, software or combination of both. Block your schedule and don't forget to attend the Monday evening " Weddings Ground-0" seminar to discover the plans for the 2019 Summit.
NOTICE: The 2019 Summit is a B.Y.O.L where you can plug-into the live experience.